Amsterdam
Amsterdam; the story<script async src="//pagead2.googlesyndication.com/pagead/js/adsbygoogle.js"></script>
<script>
(adsbygoogle = window.adsbygoogle || []).push({
google_ad_client: "ca-pub-2711023495410781",
enable_page_level_ads: true
});
</script>
Amsterdam's name comes from a dam called Amstel. Amsterdam originated as a village in the 12th century.Amsterdam became one of the most most important ports in the Golden age of Dutch history.The 17th-century canals of Amsterdam and the 19–20th century Defence Line of Amsterdam are on the UNESCO World Heritage List. The Amsterdam stock exchange is the oldest stock exchange in the world in the period of the middle ages. The main attractions of Amsterdam include its canals, Rijik museum, Anne Frank Huis, Van Gogh museum, a very old synagogue, I am Amsterdam crossing, The Red light area and windmills of Amsterdam. It is world's most multicultural city and also nicknamed the cycle city with separate cycle lanes on the road for people, It also has a very good tram system and the metro line making the city well connected.
Amsterdam's canals
Amsterdam has more than 100 kilometres of canals most of which are navigable by boat. The three main canals are Prisengracht, Herengrascht and Keizergrascht.  The Amsterdam canal system is a result of conscious city planning. The construction of the canals started in 1613 and preceded from west to east. In the early 17th century when immigration was rising; a plan was developed in which four concentric circles with their canals merging at I-bay. The first three canals are mainly for residential development. The canals served for water management, defence and transport for goods coming in the city from the warehouses in the middle ages.
Other destinations in Amsterdam: Rijiks Museum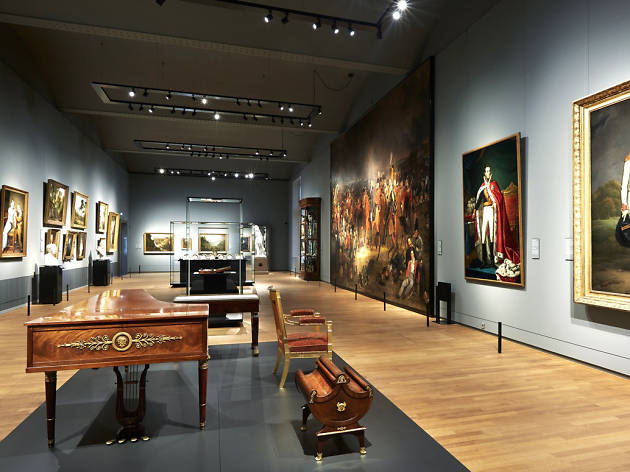 Amsterdam has a world class art museum called the Rijik museum. Original architect Cyupers is responsible for the designing of the central station originally fashioned as a church for the Remembrandt and pals. This building has undergone a renovation of 10 years by a Spanish artist called Cruz Ortiz. It has amassed in 15 years a collection of art pieces from all over the world which includes sculptures, paintings from the biblical times and middle ages. Weapons ,locks and things meant for leisure,furniture and jewelery from the medieval and later periods.
Anne Frank museum
Who hasnt heard of Anne Frank, the young author of World war ii who along with her sister had to go into hiding in the Secret Annex where eight people were hiding with her. It is one of the top destinations of Amsterdam in which one feels moved to see the hopes and dreams of a young girl who thought war would be over soon. The pain of a father who never sees his daughters after they are sent to a concentration camp. Anne Frank's diary is published after her death where she describes living in the Secret Annexe  in the time of fear but also hopes to become a writer and a Hollywood star. This is in old Amsterdam on the other side of the canal.
Red light district
Amsterdam is the only country in the world to legalize prostitution. This particular area is a tourist spot and is visited by many people from different countries to see the young night in Amsterdam with brothels and strip clubs.
The Rossebuurt, as the locals know it, is unlike any other place. And contrary to what a lot of people might think, the Amsterdam Red Light District has a very friendly atmosphere and isn't as dangerous as it used to be.
Amsterdam prides itself, and rightly so, on its wholly liberal and tolerant attitude, embracing the fact that people may be into prostitution, soft drugs and pornography.  But behold you cant look in windows or click photographs, don't go looking into trouble,just be calm in that place and party independently in clubs of bachelors/spinsters if you want,away from those specific places.
Van Gogh Museum
Van Gogh museum is an art museum which is one of the top destinations of Amsterdam lies in old Amsterdam and is dedicated to Van Gogh and its contemporaries of Renaissance period, It has 400 paintings, sculptures and other artefacts of modern art dedicated to Dutch Renaissance. It was opened in 1973 and received 1.9 million visitors in the first years. Notable paintings include the  Potato eaters and Wheat field with a lark(1885-1887).
Funny incident in Amsterdam
It happened with us at the airport as the security detected pepper spray in my sister's bag, she was detained by the police officer and after a lot of requesting she agreed not to take money from us as we were students and in India we have to keep these things as it is a security risk and we were lucky as we came running to the boarding gate of the flight from Paris to Brussels.
Indian restaurants in Amsterdam
These are some of the Indian restaurants for people who miss Indian food in Europe, These are restaurants with their areas.
Kohinoor- Near Ann Frank Huis
Tulsi Vanwoustrattat
1e Anjeliersdwarsatt Shahjahan
Sarvanabhavan Stadhouserkrade