Bikaner- The Jungle and Pious city
This city was built in 1488 and was also known as Jangladesh. He was the first son of Rao's Jodha clan. It was on a trade route between Central Asia and Gujarat coast where a new fort was built called the Junagarh fort.
Places to see in Bikaner
Lalgarh Palace- It was designed by Samuel Swinton; a British architect in Indo – Saracenic style and is now converted into a heritage hotel. It was built for Maharaja Ganja Singh.
Junagarh fort 
The fort was originally called Chintamani and was constructed in 1593;It was one of the only forts was not built on the hilltop. Archaeological excavations have revealed the fort to be completely unscathed; the only successful attack was by a small ruler Kamran Mirza; the brother of Babar who conquered Babar in 1534. This fort contains many temples  of Vaisnavite, Shaivite and Jain influence. This fort is a mix of Mughal and Gujarati styles;seven gates occupy the inner sanctum.
Karni Mata temple-
It is dedicated to Karni Mata; an incarnation of goddess Durga according to the royal families of Bikaner . She lived an ascetic life even after being married.  She is supposed to have led the foundations of Bikaner and Jodhpur fort. She has two important temples dedicated to her worship;  one is Desnoke temple and the Udaipur temple dedicated to the goddess.
Rats swarm her temples as offerings of sweets are made to them  after which it is given to devotees.
Jain temple in Bikaner
This temple is made entirely of ghee and yellow stone carvings called the Bhindasar temple. It contains floral motifs of the life of the 24 Tirthankaras. It was commissioned in 1454 by a Jain merchant.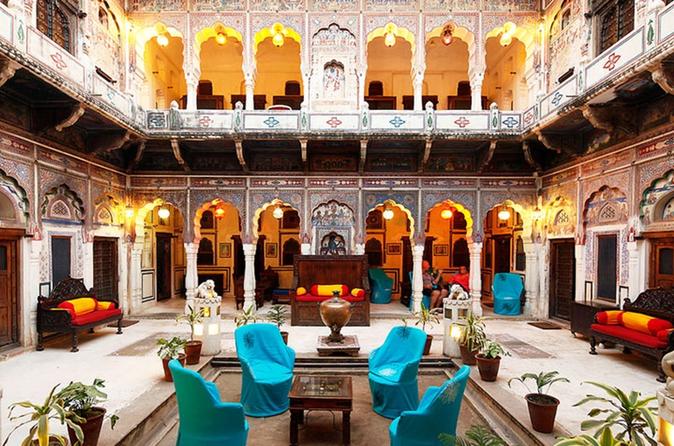 Museum in Bikaner- This museum contains European and Indian ancient art of wine glasses, royal costumes, cut glass decorative objects,cutlery and crockery used in the royal kitchen. Perfumes and royal carpets also adorn the museum.