Chittorgarh
This is one of the best cities of Rajasthan to travel . It has its rustic charm to fall in love with and the dream of every medieval art historian.
Chittorgarh has only one place to visit which is the Chittorgarh fort complex which is quite large, it consists of Jaimal and Patta palaces, Mirabai's temple and Padmini's palace which has mirrors put to show people the story of how Alauddin Khalji sees her reflection and is besotted by her beauty.
Earlier called Chitrrakuta, this fort is said to be of the ancient period  by Chitraganda Maurya.  In 1303, Alauddin Khalji captured the fort and later the Mughals in 16th century. This fort is known for three jauhars, Durgawati in 7th-8th, Padmini in the 13th and Kamravati in 16th century.
Jauhar was a practice of Rajput women that when a ruler of the Rajput clan died in battle; his wife committed  jauhar rather than submitting  to the enemy. This fort also contains a Jain temple and a temple where the poetess saint Mirabai used to worship Lord Krishna. Mirabai was a royal princess of the Merta house married into the Sisodia's household but she refused to honour her marriage and decided to immerse herself in the river  of  Dwarka.
How to Reach


You can take a direct flight from Udaipur and reach there by a local taxi and also trains are available from Kota/Bharatpur to take you there.
Heritage hotels in Chittaurgarh
This paragraph will contain information about people wanting to enjoy the rustic flavour of Rajasthan's heritage and will want to stay in heritage hotels.
  Bassi fort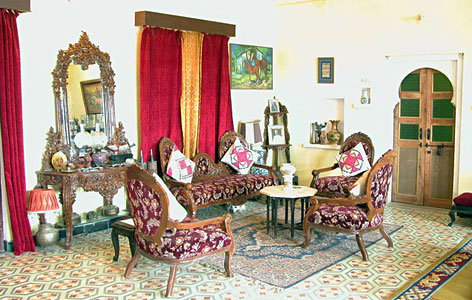 Constructed in the 16th century by Thakur Jaimal of the Sisodia dynasty. He was the cousin of Rana Pratap. Now it has been converted into a heritage hotel still houses the Mewar nobility. It has 15 rooms for guests wanting to experience the Rajput era.
Bijapur fort
A fort in the Vidyanchal hills, in the 16th century was converted into a heritage property of the Sisodia family. It was built by Shakti Singh, the younger brother of Maharana Pratap.